Meeting Schedule
** NOTICE OF TEMPORARY CLOSURE**
IN RESPONSE TO GOVERNOR'S SHELTER-IN-PLACE (STAY AT HOME) ORDER and COVID19 aka CoronaVirus pandemic.As of 8AM Monday March 23, 2020 UNTIL FURTHER NOTICE, the Alano Club of Crystal Lake (aka Crystal Lake Alano Club) is TEMPORARILY CLOSED to help thwart the spread of COVID-19 (Coronovirus).
MEETINGS ARE ONLINE ONLY Until "Stay At Home" order has ended or until further notice.  If needed visit the District 11 Website for more meetings in the area District 11 ONLINE MEETINGS and the "regular" Meeting Schedule-District 11
AA HOTLINE 815-455-3311 (Northern Illinois Area District 11)
---
Online Meetings
The CLAC now has a Zoom Online meeting space!

ACCL Meeting Schedule as of 04/07/2020
To help support our members and the AA community, while the club is physically closed, we have established an online meeting space for members using ZOOM, For more information on how to use ZOOM see the ONLINE MEETING HELP page
Our Meeting ID using the ZOOM App is: 305 844 0344
Use the following link for convenience
https://us04web.zoom.us/j/3058440344
One tap mobile +13126266799,,3058440344# US (Chicago)
password 101010 (as of 4.4.2020)
See the Meeting Chairperson Chart and the "in-person" meeting schedule down the page for reference of existing meeting time, day and format, and who may be chairing the meetings at each hour. Each meeting is autonomous and may or may not choose to use the club's zoom space during the "Stay at Home" order.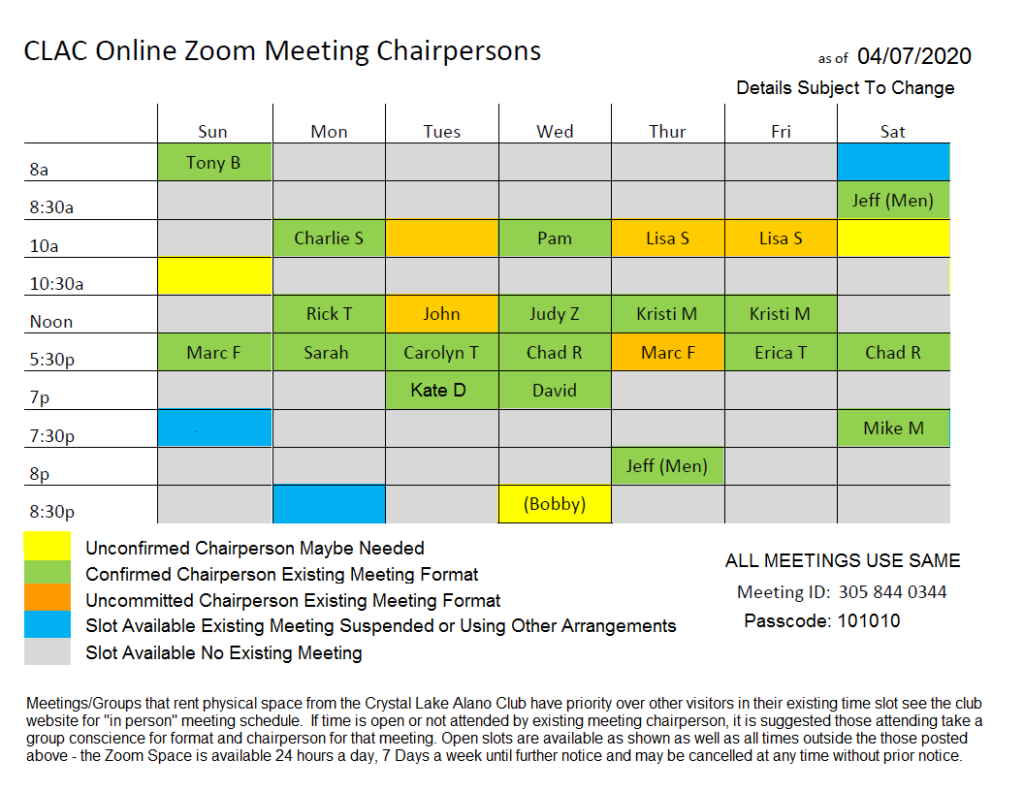 Meeting chairpersons or participants wishing to serve as chairpersons and anyone with general questions about the Online Schedule may contact Marc F. at 224-688-4857.
You may join the meeting room at any time but we request you get connected before a scheduled meeting time to minimize disruption.
Below is the regular "in-person" Meeting Schedule as of 03/30/20
MEETINGS ARE ONLINE ONLY (if not temporarily closed or relocated).
The club space will not be available for "In-person" meetings or any visitors until the after the "Stay At Home" order has ended or until further notice.
The group meetings listed below have priority to use the club's ZOOM meeting space at their scheduled day/time. All AA meetings are expected to adhere to the traditions of Alcoholics Anonymous.

Time
Sun
Mon
Tue
Wed
Thu
Fri
Sat
8:00AM
Rotating chairperson/topic/lead
Flying Geese Women's (637908)
8:30AM
Men's Meeting Enchanted Cottage (Upstairs)
10:00AM
Big Book (629498)
12 & 12 (629498)
24 Hours (629498)
Reflections (629948)
Discussion (629948)
Discussion (629498)
10:30AM
Serenity Group (104321)
12:00PM
Lunch Bunch Discussion (Open)
Lunch Bunch Discussion (Open)
Lunch Bunch Discussion (Open)
Lunch Bunch Discussion (Open)
Lunch Bunch Discussion (Open)
5:30PM
Big Book Study (639010)
Discussion (648232)
Big Book Study (603856)
Big Book Discussion
12 & 12 (148449)
Reflections
Group Discussion
7:00PM
Women's Meeting W.O.W. (695504)
Motel Dick Big Book (upstairs)
7:30PM
There Is A Solution (Closed AA)
Big Book Study (Open 715839) Temporary Relocation from The Other Side
Speaker Meeting - Open "Saturday Night Live"
8:00PM
Men's Meeting
Enchanted Cottage
Men's Fellowship (Closed Men's 104625) Temporary Relocation from First United Methodist
8:30PM
Solution Run Riot 12 & 12 Open (104623)
Discussion (Open)
9:00PM
---
PASSING THE BASKET: Please understand that the club must still meet its financial obligations during these unfortunate weeks. We ask participants to help support the club, by contributing to the club's PayPal account.



Online payments are accepted using the PayPal buttons with Credit Card, Venmo or PayPal account balance.  Please use the COVID-19 RELIEF button to donate or the MEETING RENT button to pay rent for a meeting via PayPal. You do not need PayPal Account to use the PayPal buttons..
At this time we encourage donating extra to help the club financially. The club needs help, now more than ever, to keep the building intact and the doors open when this "stay at home" order ends and people get back to meetings in-person.
Additional suggestions for Passing The Digital Basket can be found on the ONLINE MEETING HELP

---
If you have a new or existing meeting that is looking for a home, please consider the Alano Club of Crystal Lake.  There are time slots available EVERYDAY – Click here to contact the Club Vice President (Jack G) or the board of directors (ACCL Board) for information, including space available, cost to rent, and basic requirements/guidelines.