Bulletin Board (Events)
Welcome to the Alano Club of Crystal Lake's Bulletin Board.
** NOTICE OF TEMPORARY CLOSURE**
IN RESPONSE TO GOVERNOR'S SHELTER-IN-PLACE (STAY AT HOME) ORDER and COVID19 aka CoronaVirus pandemic.
As of 8AM Monday March 23, 2020 UNTIL FURTHER NOTICE, the Alano Club of Crystal Lake (aka Crystal Lake Alano Club) the board has decided it is in the best interest of the public, the club's visitors, and the club itself to TEMPORARILY CLOSE IT'S DOORS and help thwart the spread of COVID-19 (Coronovirus).See the Management Team Facebook Announcement on the club website homepage.
---
PLEASE HELP SUPPORT THE CLUB
ONE WAY IS TO BECOME A MEMBER! SPECIAL OFFER UNTIL JUNE 15. 2020!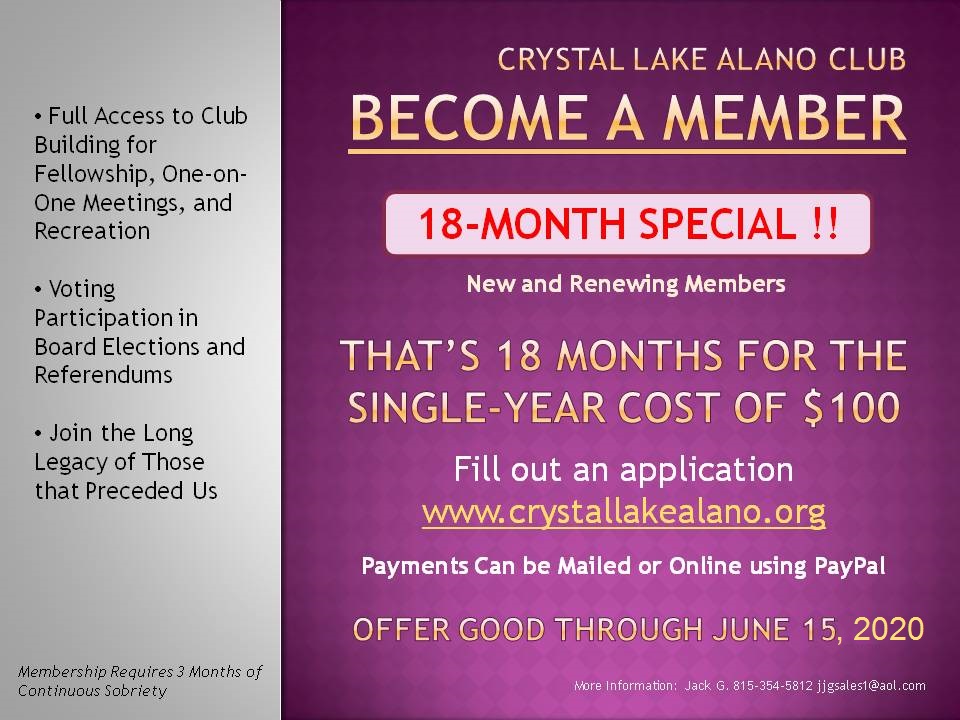 Another way to help is to donate with the COVID-19 RELIEF button below and please CONTINUE TO PAY MEETING RENT.  Extra donations are welcome and encouraged during this time of financial stress.
Online payments are accepted using the PayPal buttons with Credit Card, Venmo or PayPal account balance.  Donations may also be made by checks are welcome as well to Alano Club Of Crystal Lake.
Please remember that the club still needs to pay its mortgage and other monthly bills. Without meeting rent and other donations from regular meeting attendees the club will struggle and may not be able to pay its bills.
The COVID-19 RELIEF Button (via PayPal) is for donations to help the club continue to pay mortgage and other bills.  The MEETING RENT Button is available for group treasurer or individuals to pay or help pay meeting rent,
Visit the PAYMENTS – DONATIONS PAGE or side bar for more options including becoming a member and paying monthly or annual membership dues.
---
The club space will not be available to the regularly scheduled meetings, events, or any visitors until the club reopens after the "Stay At Home" order by the Governor of Illinois has ended or until further notice
CALENDAR OF EVENTS

<< May 2020 >>
S
M
T
W
T
F
S
26

27

28

29

30

1

2

3

4

5

6

7

8

9

10

11

12

13

14

15

16

17

18

19

20

21

22

23

24

25

26

27

28

29

30

31

1

2

3

4

5

6
Check out the calendar for upcoming events for the club and in the area.
Other Crystal Lake Alano Club updates and whatnot including notes on changes to our website may be posted on this page, too… so please visit again!
If you have one of your own Club or AA related event to announce feel free to submit the information (PDF or Word Doc/DocX files preferred) to the Webmaster@CrystalLakeAlano.org and we will add it to the calendar of events. (Of course, all submissions are subject to approval of the board).
You'll also find AA related events on the AA NIA District 11 website events page and the Northern Illinois Area 20 website events page websites.
(note these other AA web pages are not affiliated with the Alano Club of Crystal Lake in any way – the links are posted for convenience.  Similarly, the events posted and details provided above are not sponsored by the Alano Club (except as noted). Please contact the event organizers for more details and updates.  If updates or corrections are needed on the our club event calendar, please let submit correction to the webmaster.